Cross -border news
Shipping Issues and Problems? Fix for 2023 Logistics Fulfillment Challenges
This article will provide a detailed overview of the problems and challenges faced by international shipping and logistics routes. It will also propose and analyze feasible strategies and solutions to help readers explore optimized shipping methods in cross-border e-commerce.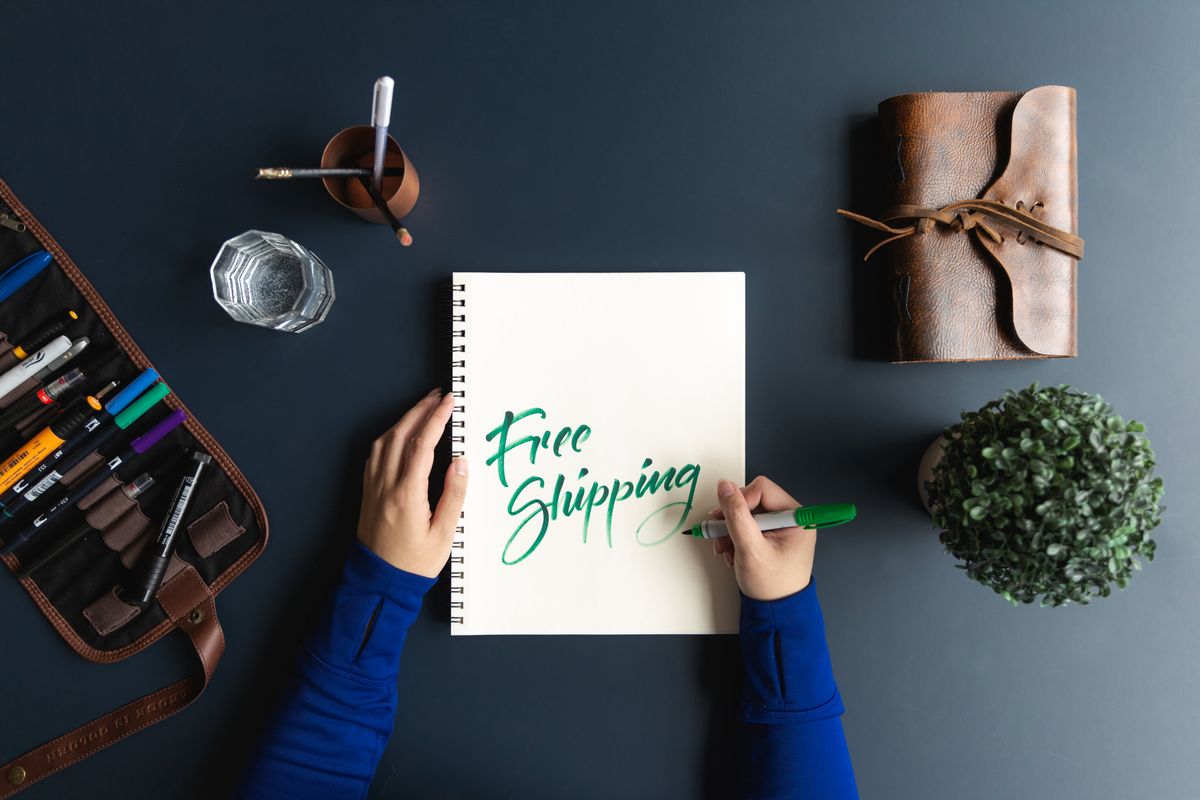 In cross-border e-commerce, international shipping plays an essential role. To swiftly and securely deliver goods worldwide, cross-border e-commerce businesses must effectively control and manage international logistics, including transportation, delivery, supply chain management, logistics network optimization, and customer experience.
Controlling and managing international logistics are crucial for market expansion, supply chain stability, competitiveness enhancement, customer satisfaction, and overall business performance. Therefore, cross-border e-commerce enterprises should prioritize optimizing their logistics methods and implement practical strategies and solutions to achieve better international shipping outcomes.
This article will provide a detailed overview of the problems and challenges faced by international shipping and logistics routes. It will also propose and analyze feasible strategies and solutions to help readers explore optimized shipping methods in cross-border e-commerce. By implementing targeted measures, cross-border e-commerce enterprises can overcome logistics difficulties and achieve fast, secure, and efficient international shipping. This will contribute to improving their competitiveness, enhancing supply chain stability, increasing customer satisfaction, and further enhancing overall business performance.
Uncontrollable logistics costs
When the costs of cross-border logistics are beyond control, businesses may face various challenges and concerns. Logistics costs are a significant consideration in international trade, but for various reasons, these expenses are often difficult to manage. This can result in budget overruns and difficulties in product pricing, as well as instability in the supply chain, limited market expansion, and decreased competitiveness. Therefore, companies need to find ways to optimize logistics costs and ensure effective control and management of cross-border logistics expenses.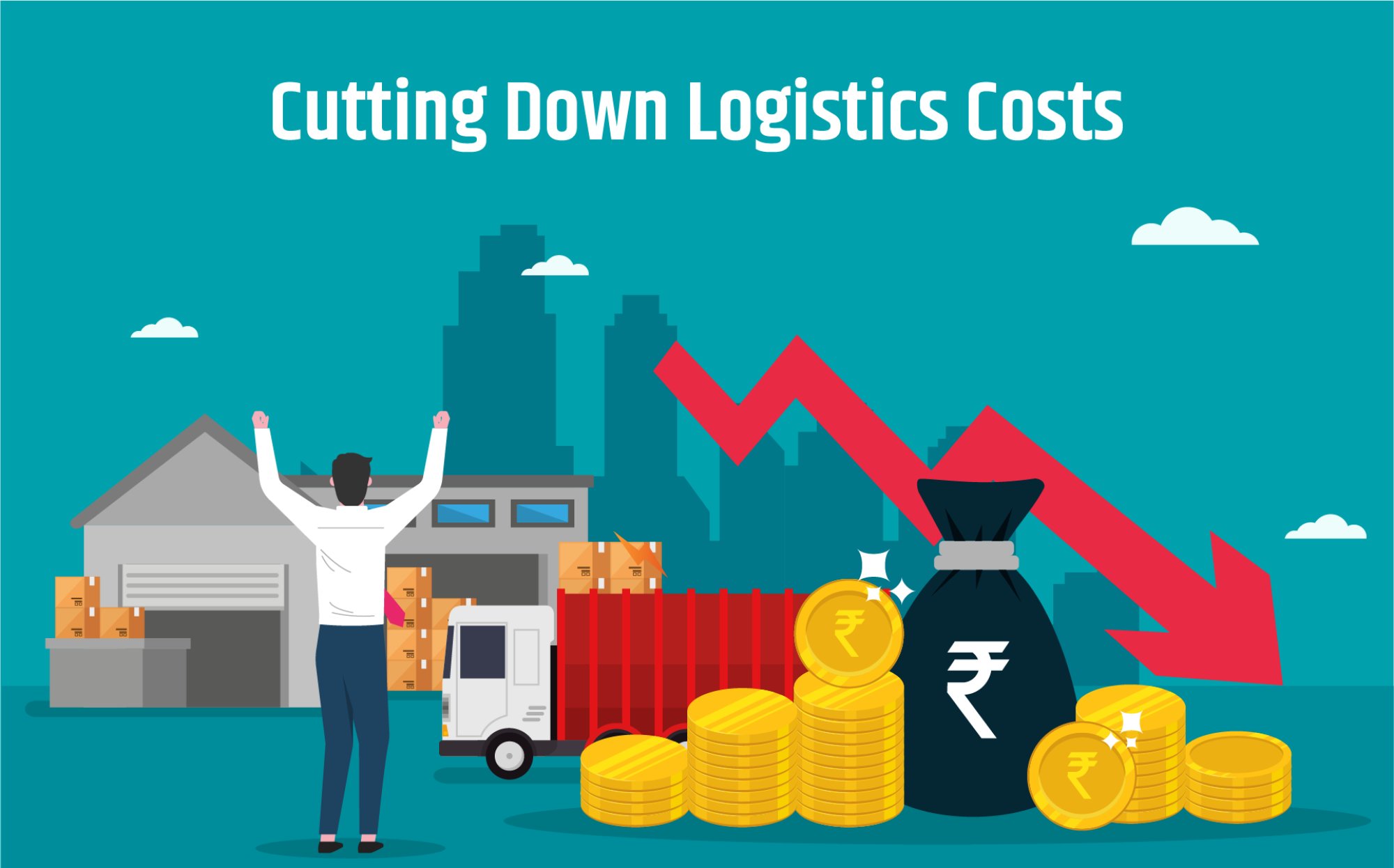 Lack of reference standards in logistics pricing
The absence of reference standards in cross-border logistics pricing can lead to a range of issues. In international trade, logistics costs and prices are important considerations for businesses and consumers. However, the lack of a unified set of reference standards to guide price determination can result in several potential challenges and difficulties.
The absence of reference standards in cross-border logistics pricing may lead to unfair competition, lack of transparency, uncertainties, and a dearth of market competition and innovation. Businesses and consumers face difficulties in obtaining accurate price information, making it challenging to assess the quality and cost-effectiveness of logistics services. Additionally, the fluctuation and uncertainty in pricing, due to the lack of uniform standards, increase risks for businesses' budgets and market planning.
Therefore, establishing a clear set of reference standards is crucial to facilitate effective operations in the cross-border logistics market. Standardized logistics pricing and cost calculation methods can provide greater transparency and comparability, enabling businesses to better evaluate supplier quotes and offer reliable price information to consumers. Furthermore, unified reference standards can encourage market competition and innovation, driving enhancements in the quality and efficiency of logistics services.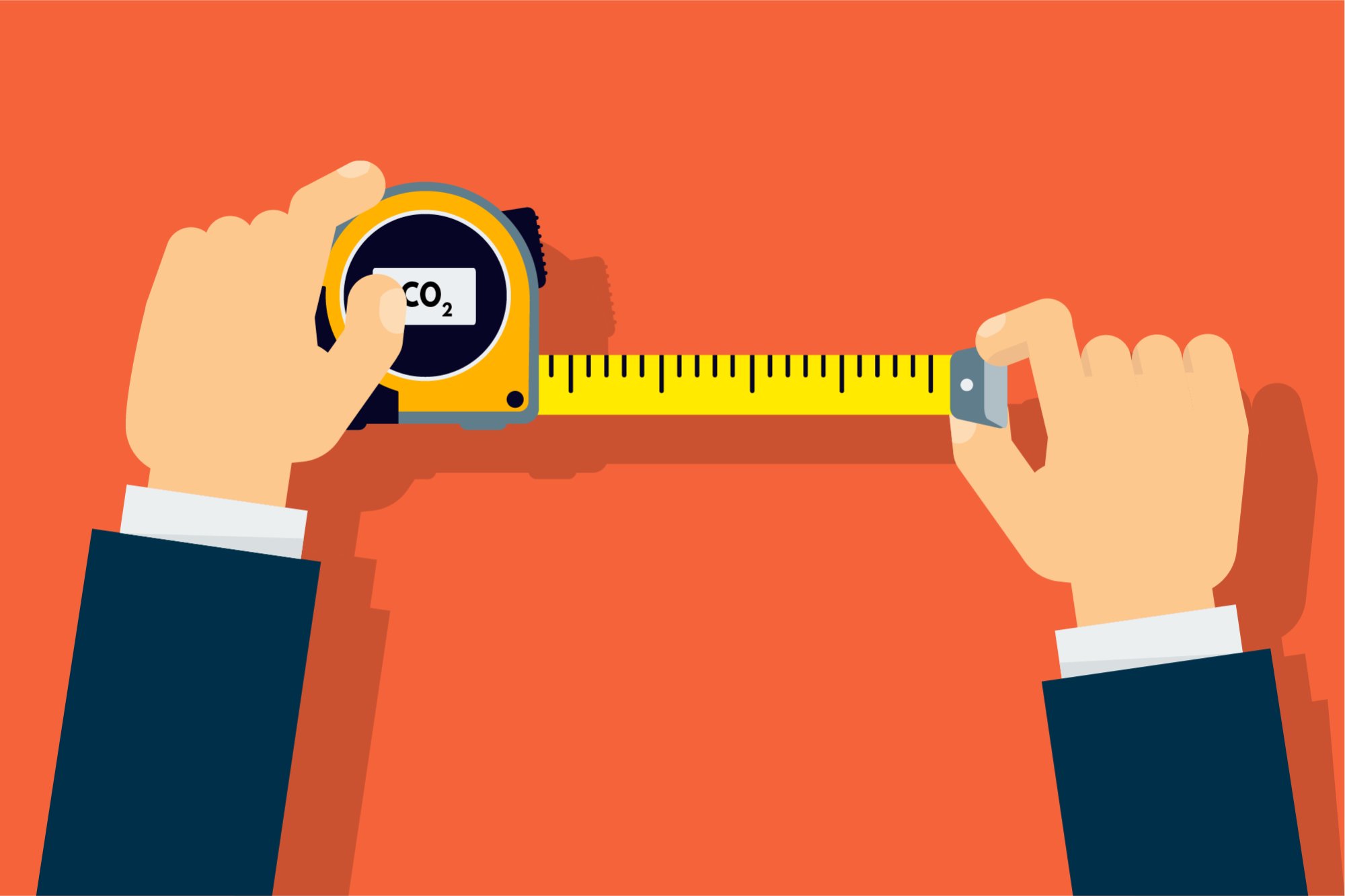 Unstable delivery time
Unstable delivery time in cross-border logistics can present a range of challenges for businesses and consumers. Accurate and reliable delivery times are crucial for both parties involved. However, for various reasons, cross-border logistics may experience fluctuations, delays, or early arrivals, resulting in a series of issues and difficulties.
Unstable delivery time in cross-border logistics can lead to supply chain disruptions, difficulties in production planning, damaged customer relationships, increased costs, and challenges in planning and management. It is important for businesses to collaborate with reliable logistics service providers and implement appropriate measures to optimize delivery time. This ensures that goods are delivered on time and reliably.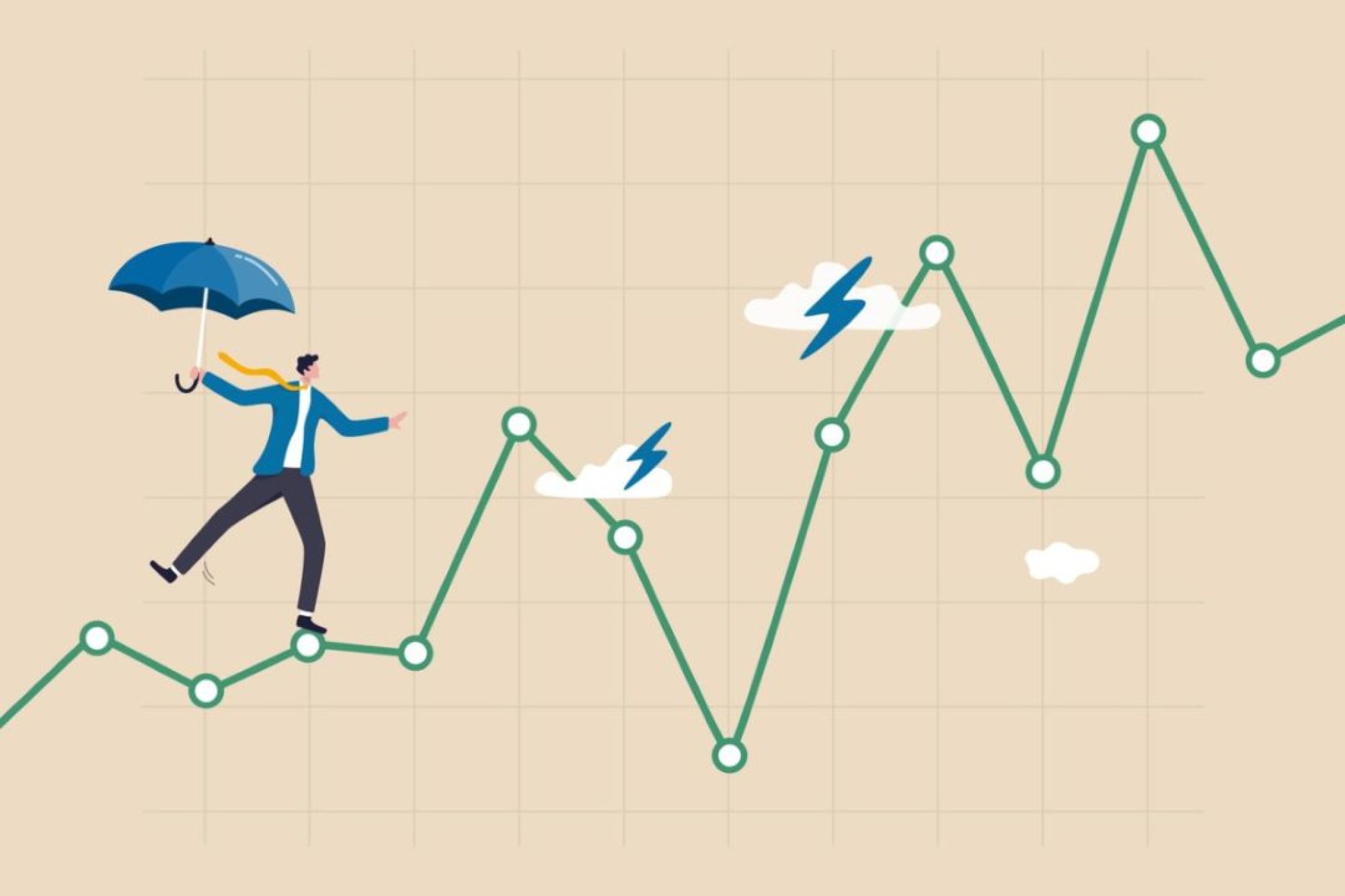 Opaque logistics information
If logistics information is opaque, it can lead to issues such as unfair competition, price uncertainty, difficulties in making informed choices, poor cooperative relationships, and damage to brand reputation.
Transparent logistics information provides clear insights into processes and cost details, enabling businesses and consumers to make informed decisions and ensuring fair competition and reliable delivery. By providing accurate, real-time, and traceable logistics information, risks can be reduced, cooperative relationships can be strengthened, and trust and satisfaction between businesses and consumers can be enhanced.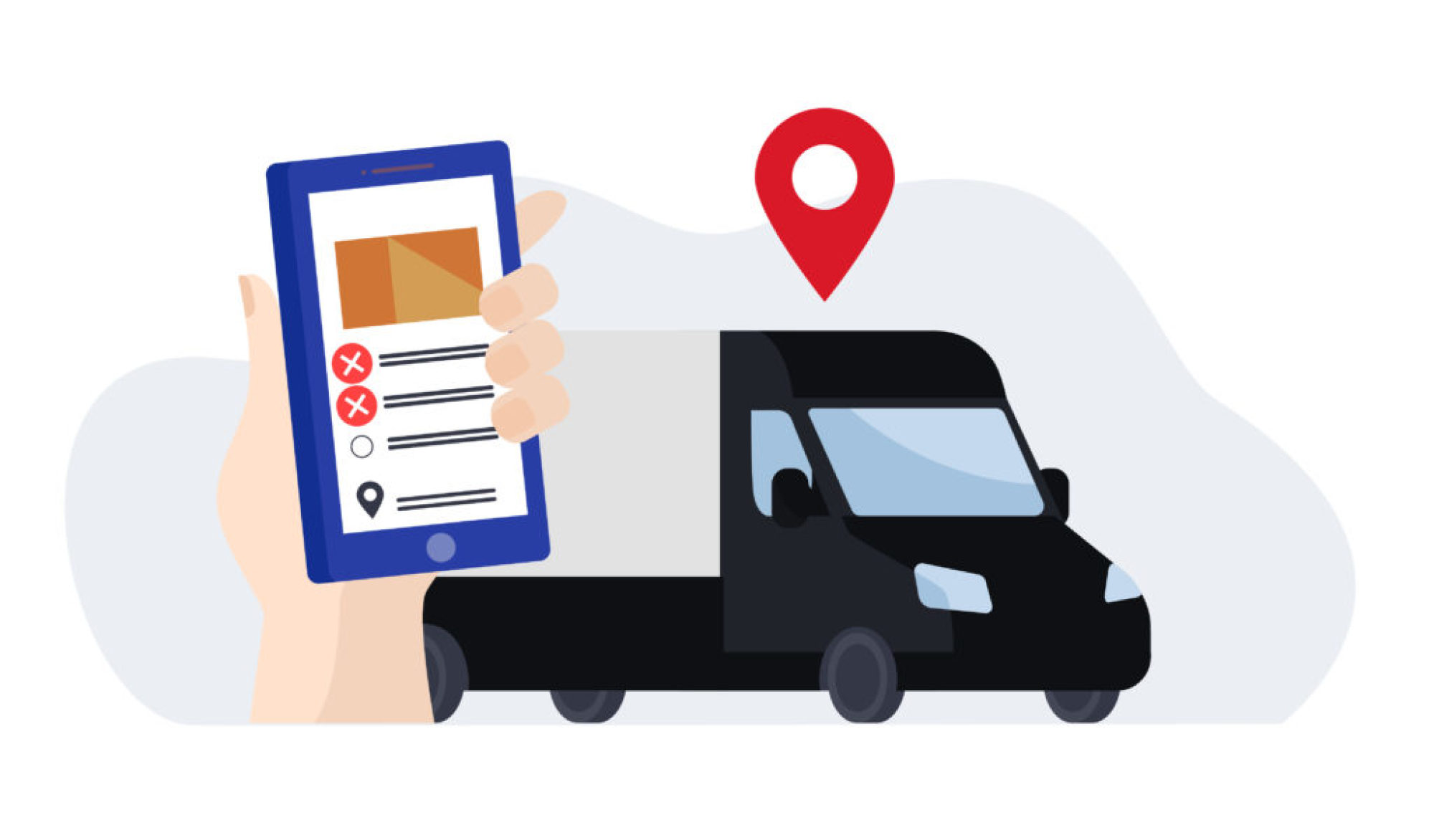 Using BuckyDrop for logistics fulfillment
To address the aforementioned issues, you can choose to use BuckyDrop for order fulfillment and logistics shipping. With years of experience in international logistics operations and support for over 100 routes covering more than 200 countries and regions worldwide, we provide strong global delivery capabilities. Whatever type of goods you need to transport and wherever the destination may be, we can offer suitable logistics route options.
Additionally, our team of logistics experts can customize shipping solutions according to your specific requirements, making your shipments more convenient. Whether it's custom packaging, selecting the best transportation mode, or providing other personalized services, we strive to meet your needs.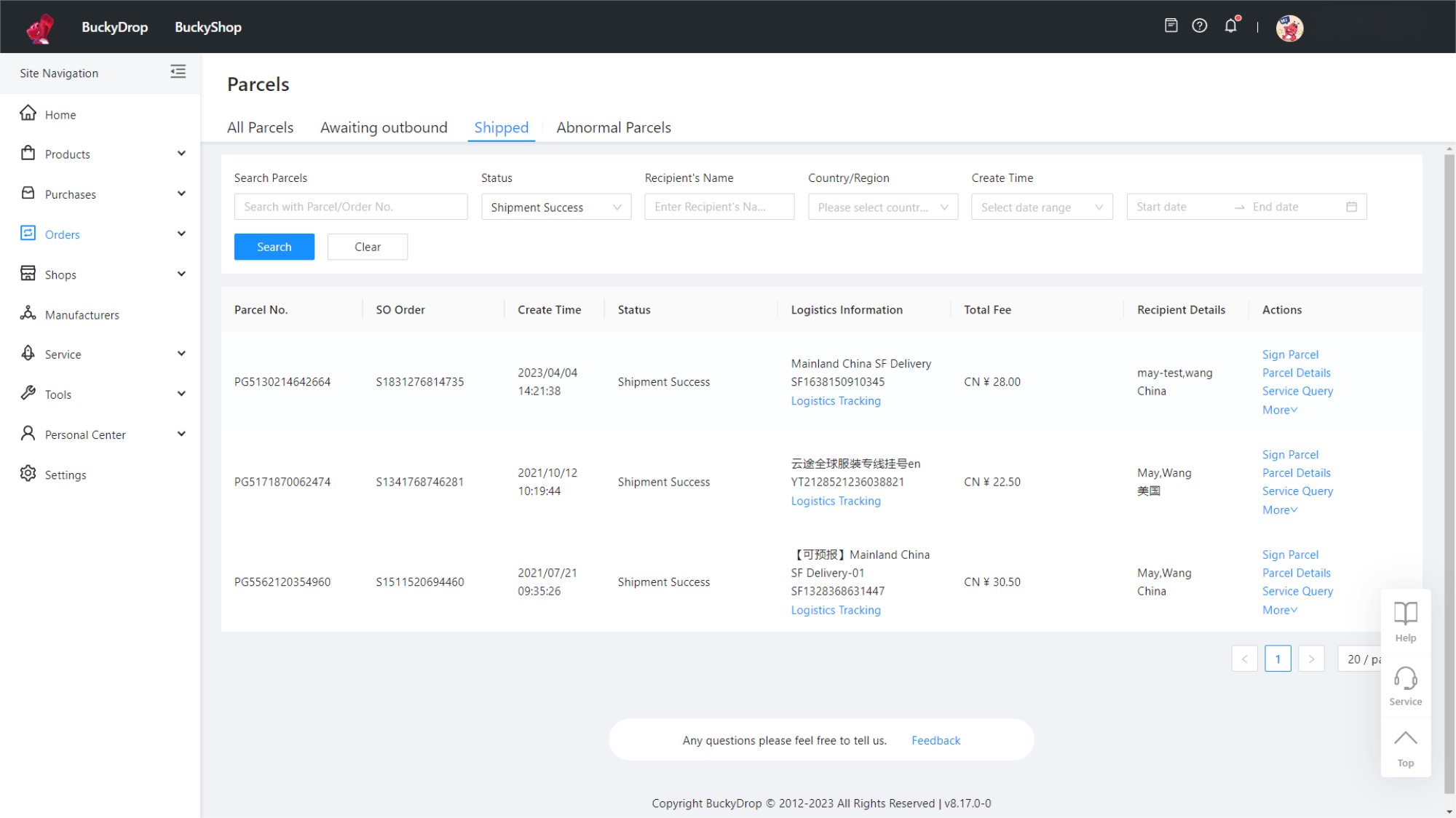 By choosing BuckyDrop as your logistics partner, you will receive professional service and a robust logistics network to ensure smooth order fulfillment and secure, fast delivery of your goods to their destination. We are committed to providing high-quality logistics solutions to make your business operations smoother and more efficient.
Furthermore, we provide a freight estimation tool that allows you to check logistics prices in real-time. You can visit the Shipping Fee Calculator to view available logistics routes and estimate the corresponding logistics costs.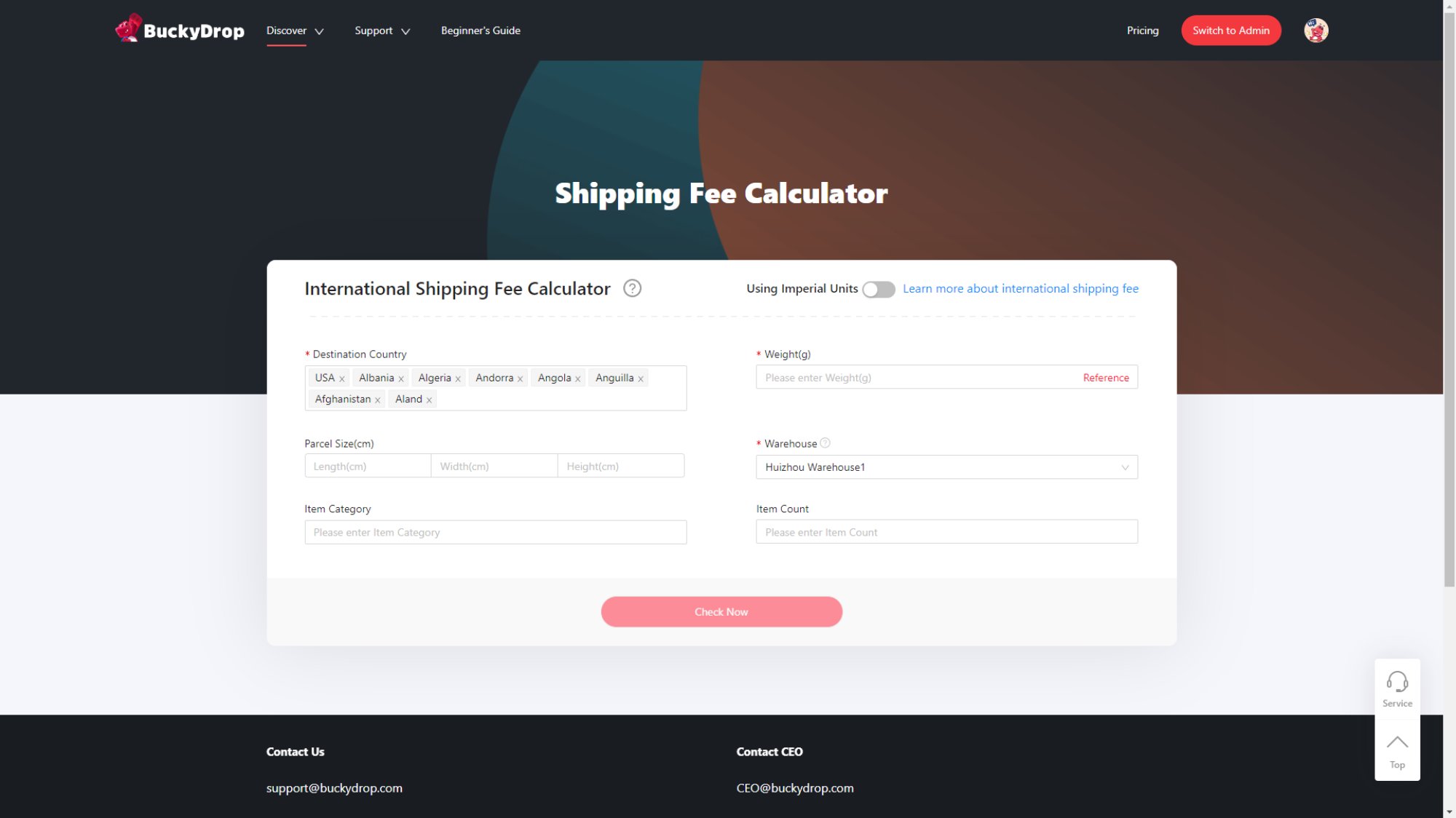 On the page, enter the destination country, estimated weight of the goods (including packaging), and dimensions of the outer packaging, and select the category of the goods (choose "Huizhou Warehouse1" as the warehouse option), then click "Check Now".
The system will display the logistics costs, delivery time frame, and any special restrictions for each available route.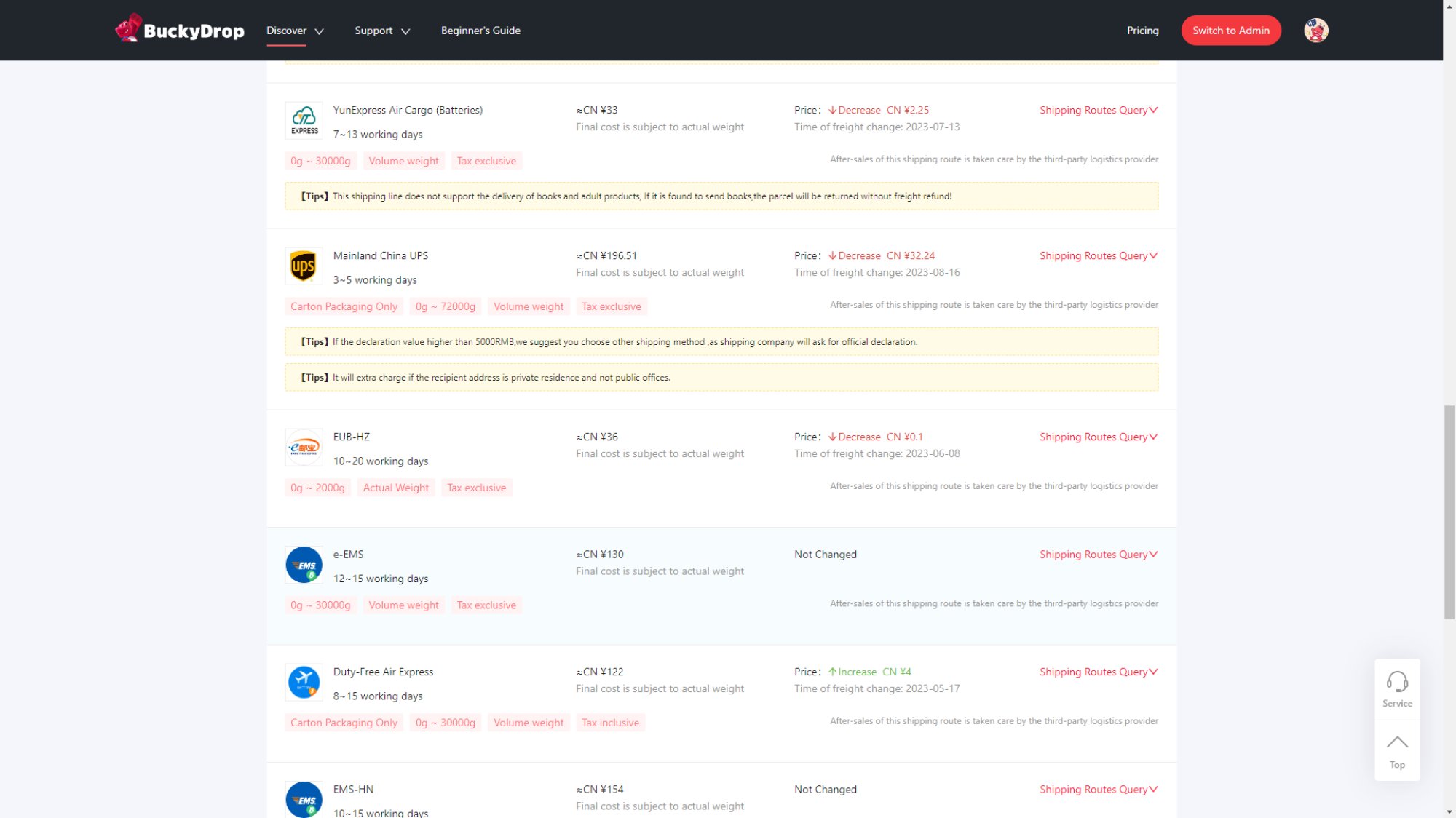 If the prices and delivery time frames of the displayed logistics routes do not meet your expectations, you can choose the "Customized Logistics" route. By selecting this route, BuckyDrop will tailor an optimized logistics shipping solution based on the current international logistics environment, customs characteristics of the destination country, transportation prices, delivery time frames, route features, and your package specifics.
Register with BuckyDrop for more information.